When it comes to Amazon Fire TV and picking out which is the one you should get, it really comes down to one question. It's not exactly a simple one, though.
What, exactly, do you need?
Because here's the thing about Amazon Fire TV devices: Most of them are ridiculously inexpensive. You can get a Fire TV Stick for as little as $20. But you probably shouldn't. We'll explain more in a minute. Or you could spend more like $100 and get a device — a cube, actually — that directly combines Fire TV with an Amazon Echo speaker that all hooks into your TV to make a cool sort of hybrid device.
Or you could spend a few hundred dollars to get a television that's powered by Amazon Fire TV as the underlying operating system, with all the bells and whistles you'll find in the other devices. None of that actually answers the question, though. Which is the best Amazon Fire TV device you should buy?
Fire TV Stick 4K Max
The best for everyone
Pros
Same great Fire TV experience
Double the storage
Improved processor
Faster Wi-Fi
Price is right
Cons
Doesn't include the best Alexa remote
Waiting on some new AI features
Laggy interactions
The Amazon Fire TV Stick 4K Max is a mouthful, and it's the Fire TV Stick we think most folks should get if you're looking to spend less than $100. It most recently saw a hardware refresh in September 2023 that really was a relatively minor spec bump. Faster processor. More RAM. Better Wi-Fi. It also supports Dolby Vision for HDR, and Dolby Atmos for audio. Those are all good things that will help future-proof the 4K Max (as we tend to call it for brevity) for a few years.
In addition to having the Fire TV operating system (as all Fire TV devices do, of course), the 4K Max currently is the only Fire TV Stick that includes Amazon's Ambient Experience. That's a cool combination of screen savers and widgets that actually give you something on your TV that you'd want to watch when you're not watching anything else. If you're a fairly frequent user of Amazon products, you'll get a good bit of usefulness out of it beyond the backgrounds. And if none of them tickles your fancy, you can have it display your own photos.
The Fire TV Stick 4K Max retails for $60, but there's a very good chance that you'll be able to find it for less. (As we write this, we see it on sale for a mere $45.) Given how much more you get with this device over the lesser-capable (and, yes, even less expensive) Fire TV Sticks, we'd go ahead and pony up for this one. It's that much better for not a lot more money.
Fire TV Stick 4K Max
The best for everyone
Amazon Fire TV Cube
The step-up Fire TV device
Pros
Directly supports cable/satellite set-top boxes
Same great Alexa integration
Fire TV OS is good, if busy
Incrementally better overall
Cons
Less simplicity with so many features
The step up (sort of) from the Fire TV Stick 4K Max is the Fire TV Cube. Currently in its third iteration and last updated in September 2022, the Fire TV Cube is sort of exactly what the name implies. Take a Fire TV Stick and built it up into cube form. Toss in a speaker and microphone array, and you now have a Fire TV device that allows you to do hands-free Alexa control. It supports 4K resolution, Dolby Atmos and Dolby Vision, too.
The most recent Fire TV Cube lets you use Alexa not just to answer questions or play music or games or control lights — it can now control your television or another connected devices, too, thanks to a little protocol called CEC. (That's the same thing that lets your TV and soundbar and other devices all play nice with each other.)
That's a couple of legs up over the Fire TV Stick 4K Max. But it's also more expensive, listed at $140. (Though sales prices will take it closer to $110.) Also note that it doesn't yet have access to the Ambient Experience mentioned above.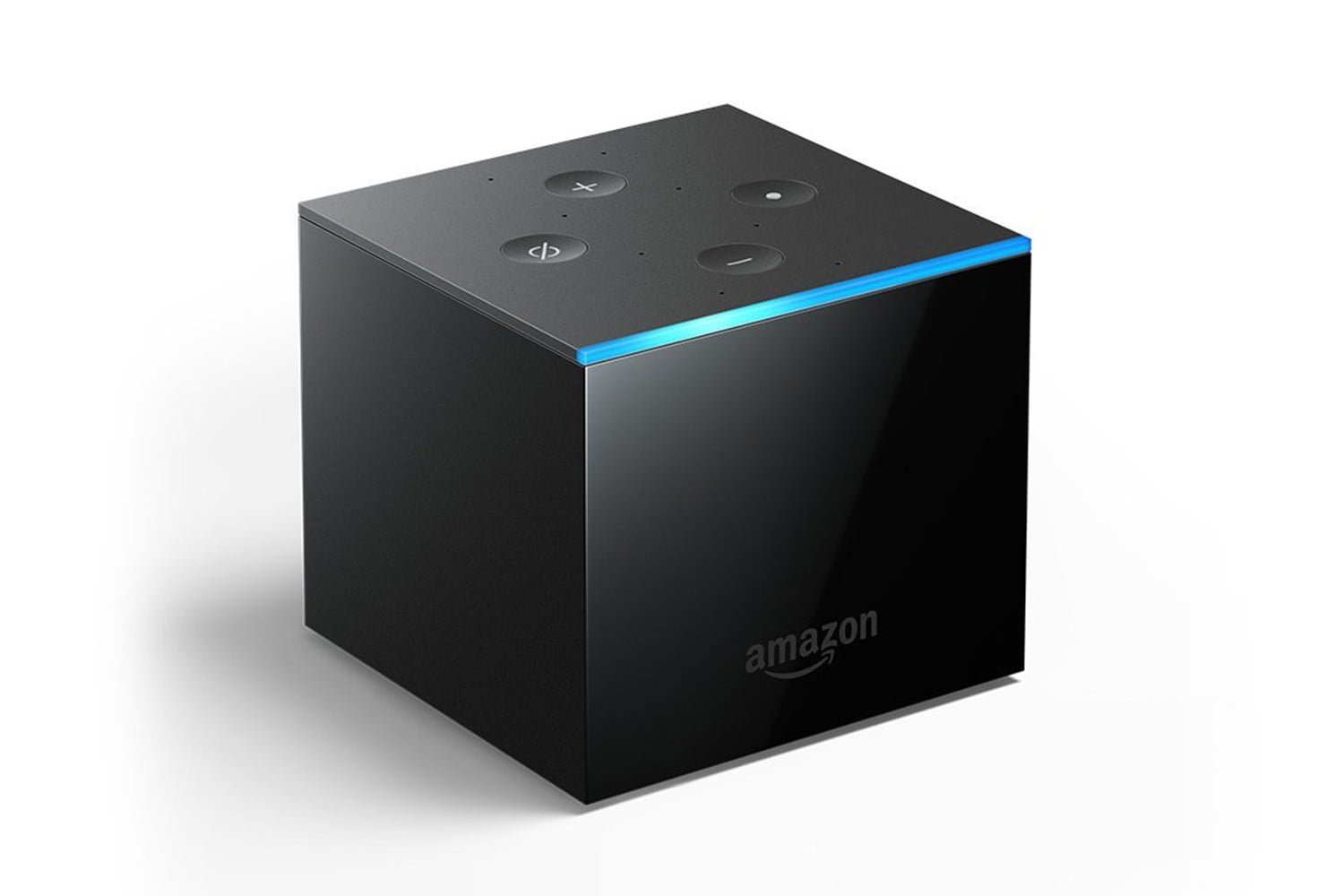 Amazon Fire TV Cube
The step-up Fire TV device
Amazon Fire TV Omni QLED
The TV option
Pros
Excellent Fire TV experience
Great smart home hub
Adequate picture performance
Fun features
Cons
Lacks HDR punch
Price-to-picture performance ratio is off
If you're in the market for a new television and definitely want it to just flat-out run Amazon Fire TV so you don't have to plug in anything else, you've got a lot of options.
At the top of the pile is the Amazon Fire TV Omni QLED Series. They run from 43 inches retailing at about $450 to 75 inches at $1,100 retail. Once again, sales prices can lessen that a good bit.
The Omni Series QLED aren't the best of the best when it comes to pure television tech, but they're no slouch of a TV, either. Perfectly capable, with all the Fire TV and Alexa stuff you want. And they have the aforementioned Ambient Experience, with an added twist. The Omni Series TVs have an optical sensor that can tell when the room is empty and turn the TV off — then turn it back on and start the Ambient Experience when it sees you're back in the room. Very cool.
We're focusing on the best here, but it's worth mentioning that there also are plenty other lesser models of Fire TV for even less money. Just with far fewer features.
Amazon Fire TV Omni QLED
The TV option
So which one's best?
This is one of those times in which there isn't a single, simple answer for which Fire TV device is best for you. It really does depend on what you want and how you intend to use it.
The Fire TV Stick 4K Max is the best of the low-cost sticks, and it really is the one we recommend. If you cheap out here, you'll get a drastically lesser experience.
The Fire TV Cube is great if you want to combine an Amazon Echo speaker with a Fire TV experience. (Or you could get a $60 — or less! — 4K Max and combine it with an Echo Pop for even less and get pretty much the same experience.)
And the Fire TV Omni QLED is our go-to for the best Fire TV-powered television experience.
So you've got a range of products at a range of prices for a range of uses. Choose wisely.
Editors' Recommendations